Choosing the right bindery option for your printed booklet is almost as important as writing and designing the booklet itself. To best determine what bindery method you need, PIP Metro Indy will ask questions such as:
How your book is being used?

What format do you have in mind for your book?

What is the end goal of the book or presentation?

When do you need this project completed by?
Let's dive into the most common bindery solutions to see what would be the best fit for your next project: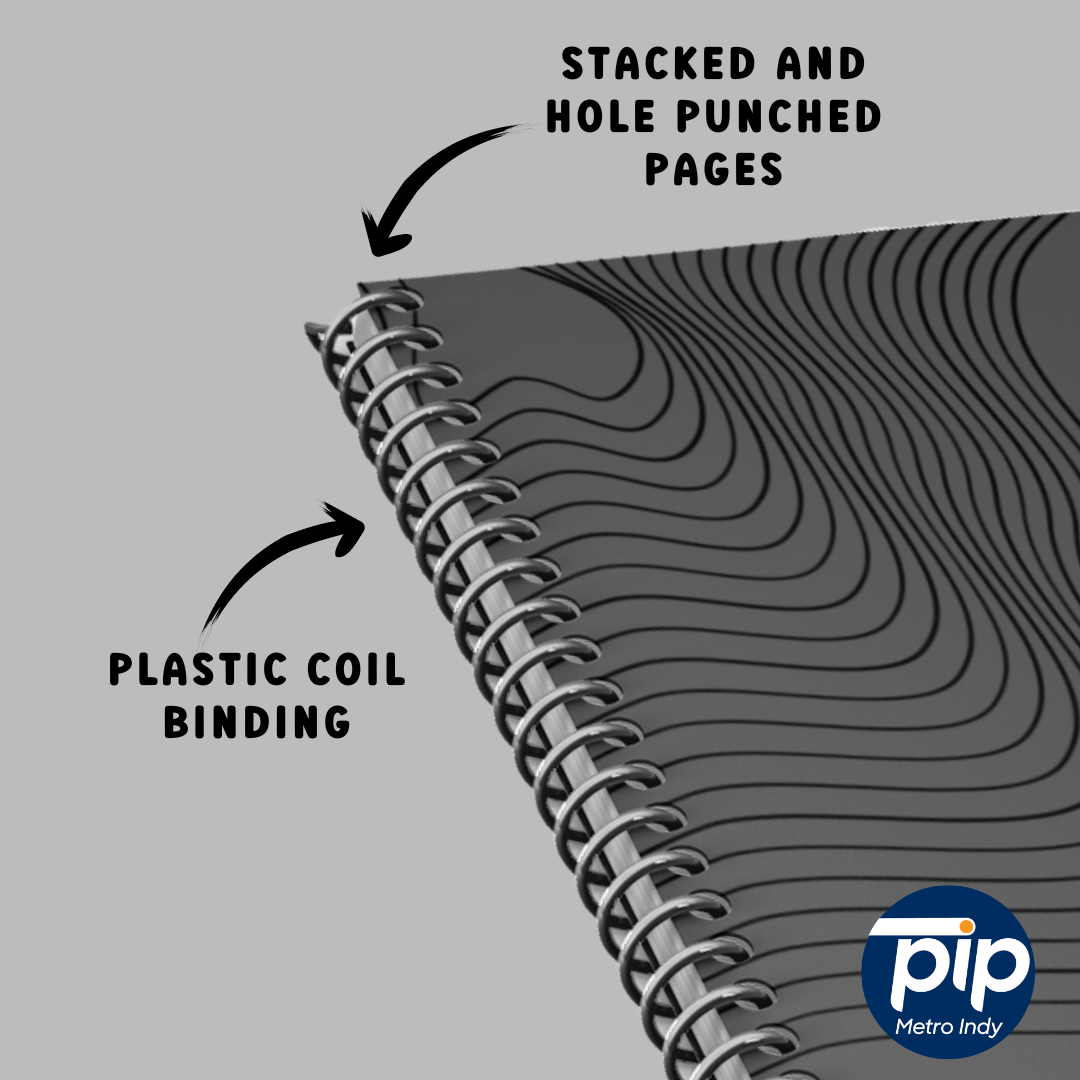 Spiral or Coil Binding
Spiral/coil bindery is the process of creating holes along the left edge or top of the booklet and inserting a continuous plastic coil to hold the book together. This method allows the pages to lay flat and is a great cost-effective solution for notebooks, journals, or presentations.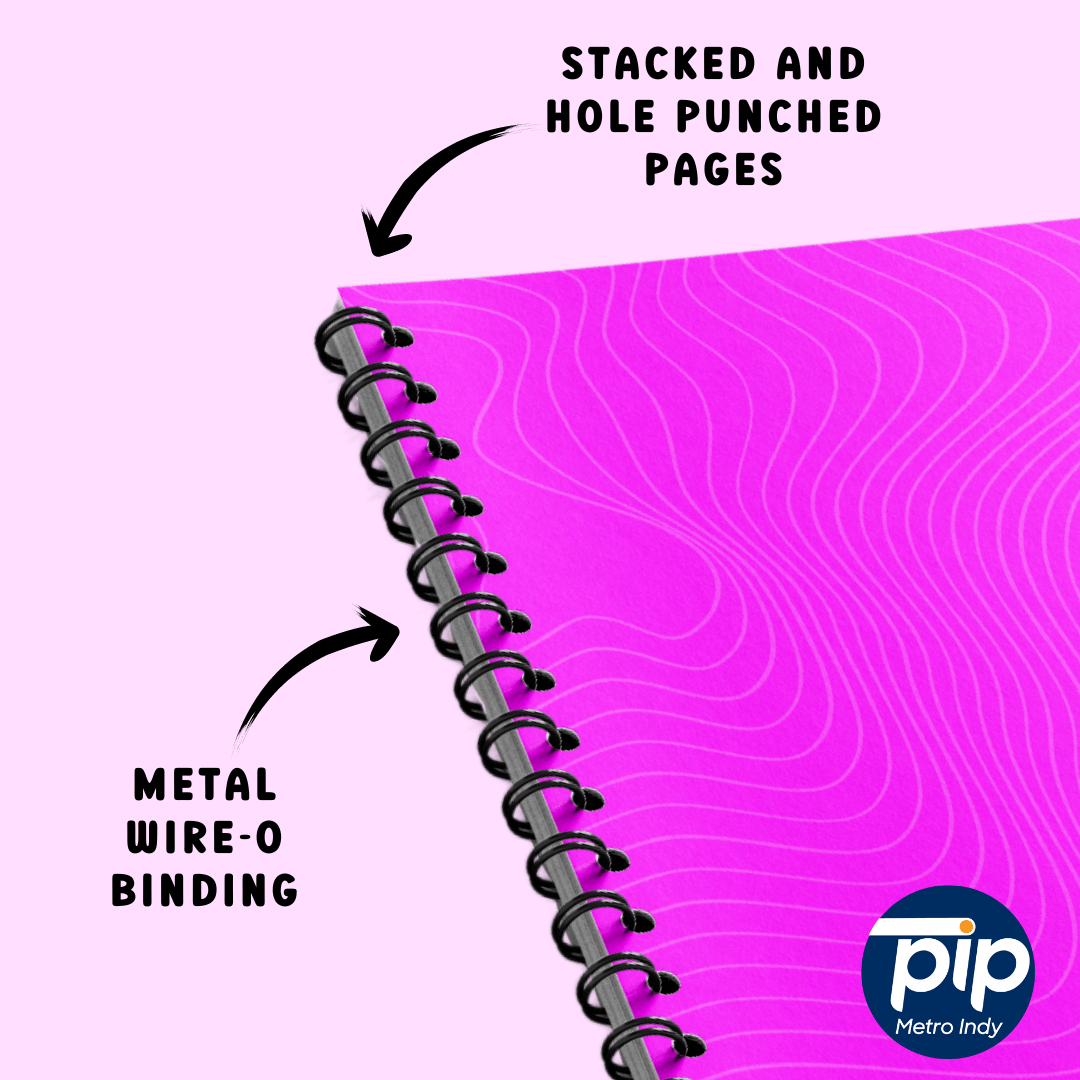 Wire-O Binding
Wire-O binding has a metal coil that is incredibly similar to spiral or coil bindery. These books have a slightly different coil pattern, but provide a high-end look to any printed piece. This bindery method is often used for year-end reports, agendas, and more as it's an incredibly versatile option.
Both of these options typically come with a clear or matte cover and a black vinyl backer to complete the professional look. Thanks to the coiling methods, you can fold and wrap these booklet options around themselves 360 degrees, but you aren't able to add or remove pages once the book is bound together.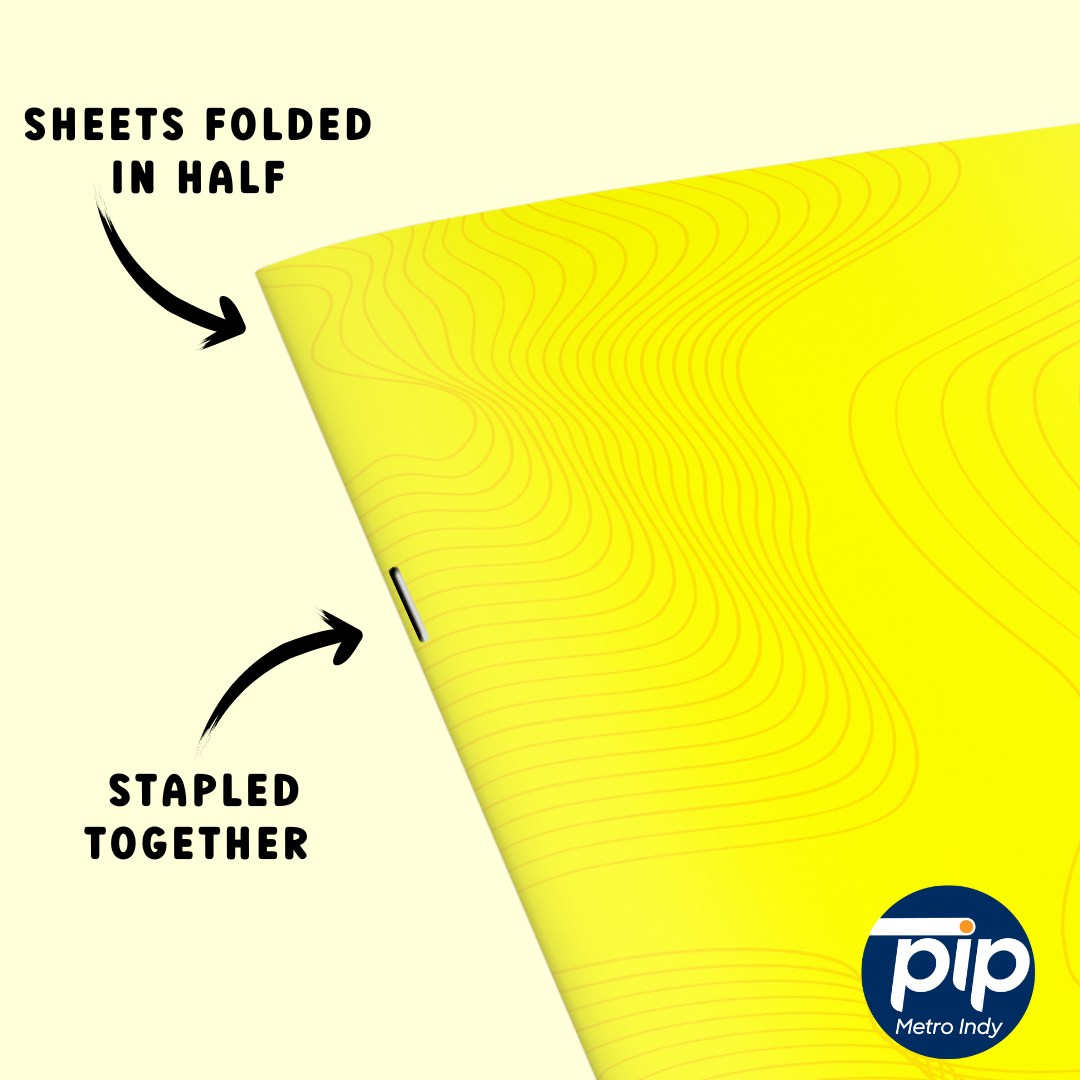 Saddle-Stitching
The most common bindery method for booklets, saddle-stitching has two staples in the center of a booklet to hold the nestled sheets together. Due to the nature of how this book is assembled, all saddle-stitched booklets need to be in sets of 4. These can include blank pages if desired. These booklets can lay nearly completely flat when opened, but you could lose some artwork/design in the middle of the book, depending on the overall thickness. This bindery option is great for programs, marketing presentations, portfolios and much more.
There is some limitation with saddle-stitched booklets, as staples can only comfortably hold so many pages. The overall page count depends on the thickness of the stock selected, so our team will advise if this is a good option for your specific project before proceeding.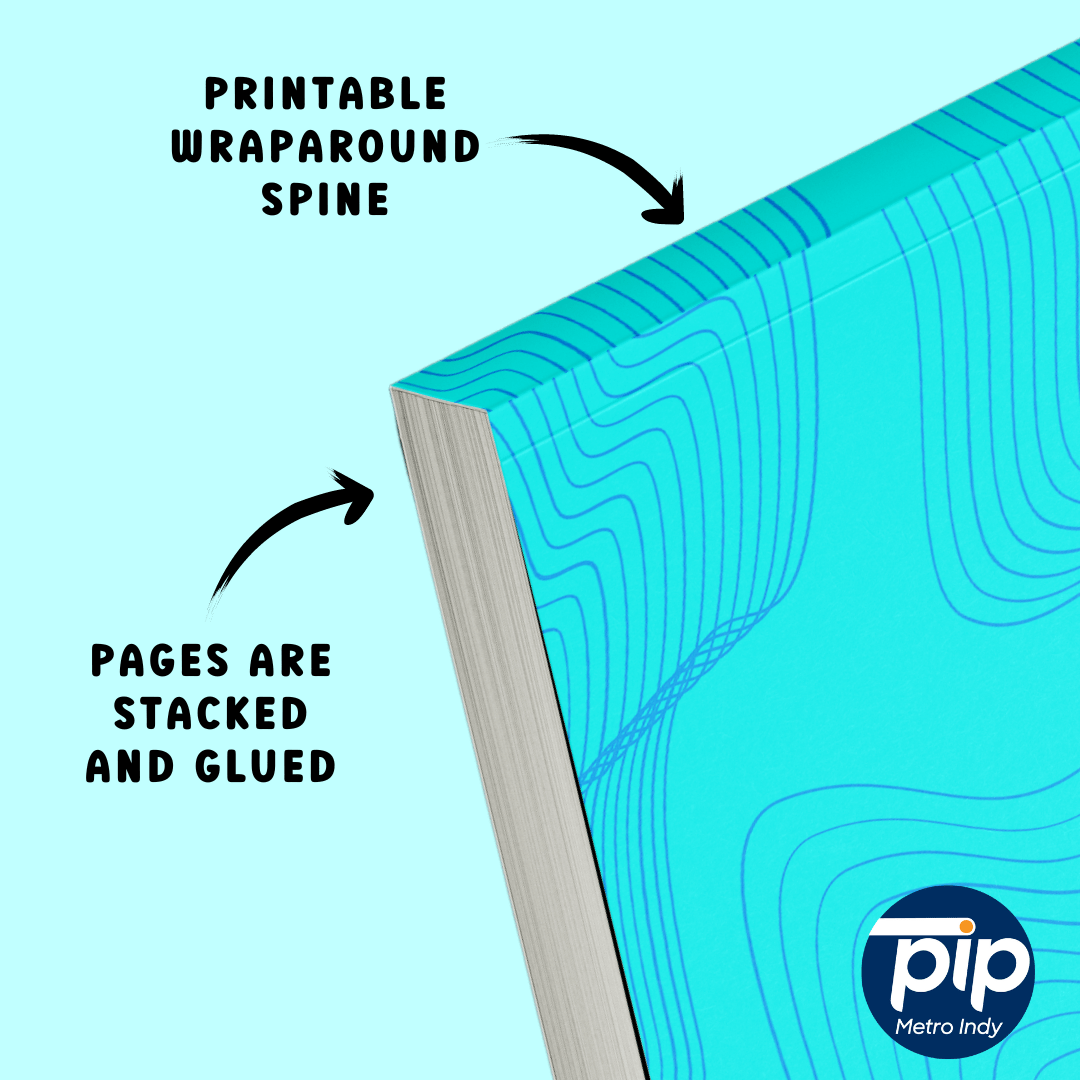 Perfect Binding
If you've ever picked up a paperback book, you've seen an example of a perfect bound book. In 2-page increments, these typically text-weight pages are collated (assembled) and a cardstock cover is placed over and glued along the binding edge. This allows the spine of the book to be printed on for additional design opportunities. While these books don't lay completely flat when opened, they are a fantastic option for handbooks, yearbooks, product catalogs and more.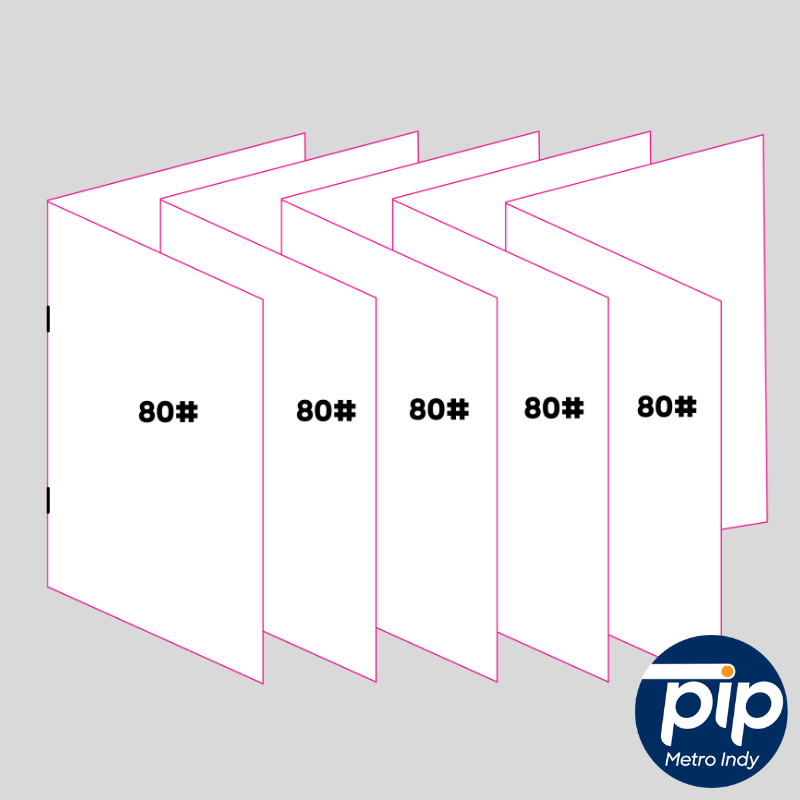 Self-Cover
A self-cover book is most commonly referred to with a saddle-stitched book. This is where the front/back cover and inside pages are all printed on the same paper weight. It has a bit shorter longevity due to the lack of durable cover, but it still a great solution for items such as newsletters, instruction manuals, price catalogs, etc. As this is a lighter weight paper, this makes them easy to fold or stuff into mailers without increasing the postage costs.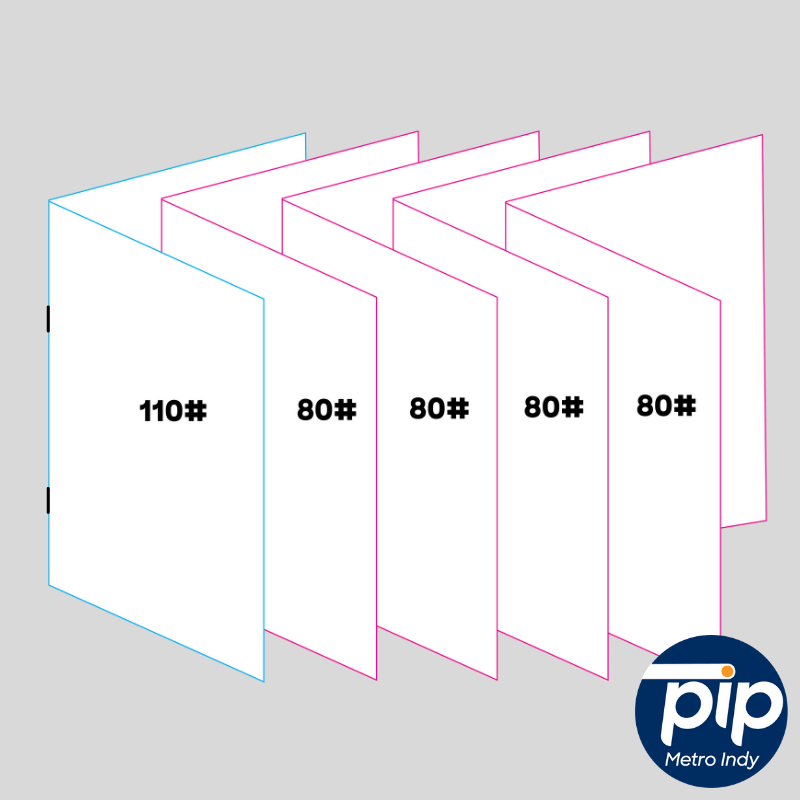 Soft-Cover
Used for nearly all the bindery methods listed above, a soft-cover is a more durable, heavier cover (front and/or back) that gives your bindery project a bit of thickness. In some cases, this is a heavier printed front cover in a coil bound booklet, and in other cases it could be a heavier cover for a perfect bound book. These covers can be a different weight, stock, or finish than your inside pages.
Insert Into Binder
If you have a project that needs to be three-hole punched and inserted into a binder, we can help! This could be a great solution for manuals, handbooks, large presentations and much more. We can also add a customized cover and spine label to view-binders.
Now you know the most common bindery solutions, give our expert team a call to get your bindery project in the works! Do you have an idea for a bindery solution or concept we didn't cover? Reach out to our expert team to see how we can best assist with your project.